Residential Electrical Services & Repairs – Dallas/Fort Worth
---
For reliable, residential electrical services and electrical repairs you can have confidence when calling, Add-All Electric, your local Dallas/Fort Worth Electrician. Since 1970, we've provided affordable, quality electrical services to homeowners and businesses throughout the Dallas/Fort Worth Metroplex and surrounding cities.
Our Electrician's Standards
Our team of licensed and insured electricians, journeyman and apprentices take pride in their work. Our Electrician Supervisors all hold Journeyman licensing and have been with the company for years. To us they are like family. Our crews adhere to the strictest safety standards and building codes to ensure the safety of you and your family. When we book an appointment with you, our electricians will either be on time or call you to let you know they are running late. We want you to know that we value your time. To more easily identify our workers, each will come dressed in company attire.
Our Electrical Services & Electrical Repairs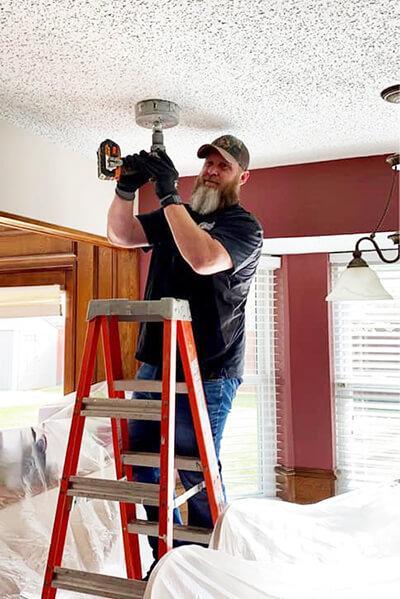 At Add-All Electric we work on projects of all sizes—from replacing an outlet to complete service upgrades and new installations. As experienced electricians, we know most homeowners don't have expert knowledge in electrical services and electrical wiring. So, we take the time to listen to your concerns, educate you on needed repairs, state and regional building codes and best practices. Our goal is to ensure you understand what we are doing and why we are doing it.
Regardless the size of your project, it is our goal to ensure you are satisfied with our electrical services. We offer 24-hour emergency service and FREE Estimates on all electrical work.
Our electrical services include:
Breaker Box Repairs
Breaker Box Installs or Upgrade
Power Loss Troubleshooting and Repairs
Meter Base Replacement
Service Upgrades
Reattach Downed Power Lines to Your House
Ceiling Fan, Chandelier, and other Lighting Installs
Wiring for Home Additions & Remodels
Wiring for Mobile Home Hook Ups and Undergrounds
Installation of Ground Rods
Add or Move Outlets and Switches
Wiring for Hot Tubs
Wiring for Smoke and CO2 Detectors
Wiring for Sump Pumps
Code Violation Corrections
Inspection Report Repairs
GFCI Circuits and Outlets
Door-Bell Systems
RV Plugs
Aluminum Wiring Repair
Exhaust Fans
Whole House Fans
Wiring for Central Air
Wiring for video surveillance systems, alarms and other security features.
If you don't see it on this list, call us any way. If it has to do with electric, we do it.
Get A FREE Electrical Service Price Quote
Whether your electrical service needs are small or large, we are honored to serve you. To get a FREE electrical service price quote in Dallas County, call us today at (972) 254-1158, in Tarrant County, call (817)-488-0126. Or, click here to submit a request through our online service request form.
RESIDENTIAL
GALLERY
---
Our residential electricians do it all: new light fixtures, canned lighting, ceiling fans, hot tubs, electrical inspections, and electrical panel upgrades. Check out our gallery for more photos.