Electrical Maintenance Contract Services in Dallas/Fort Worth
When you need electrical maintenance contract services in the Dallas/Fort Worth area you can trust Add-All Electric and their team of experienced commercial electricians to keep your business equipment and electrical components in good working order.
Whether your power systems and equipment is brand new or a heading towards end of life, preventative and proactive maintenance ensures your equipment will endure and be safe for all to use.
Why Your Business Needs Electrical Maintenance Contract Services
Expensive systems and specialized technical equipment like high end printing equipment, manufacturing and plant equipment, and medical radiography equipment (to name a few) need regular preventative maintenance to avoid unplanned down-time. Without an electrical maintenance contract, you are putting your company in a queue for the next available electrician and your employees are unable to work until service is restored. With an electrical maintenance contract in place, the chances that machinery will breakdown are reduced; but should it happen, your call is prioritized above other calls.
Today, companies rely on electric to perform their most critical functions. Electricity powers everything from our specialized pieces of equipment to our HVAC systems, lights, stove tops, refrigerators and computers. When unplanned outages occur you're out of business. Even just a partial shutdown can close a department while repairs are being made. Loss of electrical service can result in:
Unhappy customers
Work Backlog
Lost profits and income
Loss of productivity among workers or staff
Damage to electrical devices
Damage to your power system can be incredibly costly in the event of a full failure, or subtly expensive. Electrical systems that are not properly maintained over the years often lose effectiveness before they shut down entirely. Short circuits and power surges can cause damage to equipment, resulting in high maintenance costs, high equipment replacement costs and so on. Regular disruptions in electrical service can also cause staffing problems, low morale and may make staff retention more difficult.
What You Can Expect from an Electrical Service Agreement with Add-All Electric
Add-All Electric provides a comprehensive electrical service agreement to ensure your electrical and machinery stay in good working order.
Preventative maintenance. Preventative maintenance is essential for maintaining a complex electrical system. Comprehensive maintenance as well as maintenance of all the various individualized parts is important for preventing breakdowns that can lead to ongoing, expensive service problems. We'll assess your system and recommend a preventative maintenance and audit schedule that meets your unique needs.
Safety. Electrical systems that are not properly maintained can present a safety threat to your employees, customers and clients. Our electrical service contracts ensure that your system is kept up to code and your equipment is calibrated for the safety of everyone in your building.
Clean your system to remove debris from the environment. Dust, debris and material from the environment can cause damage to your sensitive equipment, leading to problems with functionality. As a part of our standard electrical service agreement, your electrician will clean the various parts of your system to prevent issues from occurring.
Is It Better to Maintain Your Own Electrical, or to Maintain Electrical Maintenance Contracts with a Pro?
Some businesses try to maintain their own electrical equipment with their on-site maintenance staff. However, it takes a professional to identify and properly repair electrical issues. While some businesses are large enough to hire their own specialists, most businesses are not.
According to the Institute of Electrical and Electronics Engineers , to ensure long-term reliability of a power system, each system should have a long-term maintenance and operation strategy that includes documented administrative and control procedures including record-keeping, testing and inspection methods and audits of maintenance and operation performance.
Placing electrical maintenance in the purview of someone who is not specially trained to address your needs could lead to the problems described above, including deferred maintenance and even safety infractions. Ultimately, signing an electrical maintenance contract with Add-All Electric is the most economical and effective way to maintain your business's valuable and delicate pieces of equipment. Our electrical maintenance contracts provide economical solutions for businesses who can't hire their own in-house electrician.
Our Electrical Services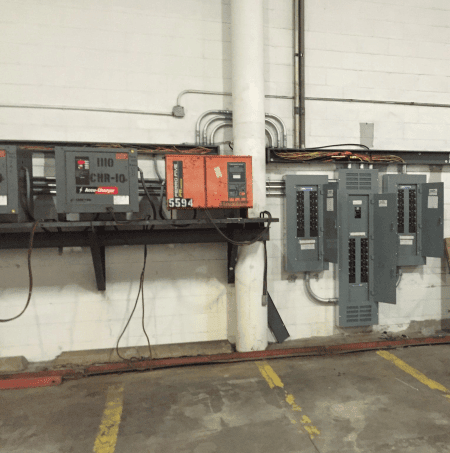 At Add-All Electric we work on projects of all sizes—from replacing an outlet to complete service upgrades and new installations. As experienced electricians, we know most homeowners don't have expert knowledge in electrical services and electrical wiring. So, we take the time to listen to your concerns, educate you on needed repairs, state and regional building codes and best practices. Our goal is to ensure you understand what we are doing and why we are doing it.
Regardless the size of your project, it is our goal to ensure you are satisfied with our electrical services. We offer 24-hour emergency service and FREE Estimates on all electrical work.
Our electrical services include:
Breaker Box Repairs
Breaker Box Installs or Upgrade
Power Loss Troubleshooting and Repairs
Meter Base Replacement
Service Upgrades
Reattach Downed Power Lines to Your House
Ceiling Fan, Chandelier, and other Lighting Installs
Wiring for Home Additions & Remodels
Wiring for Mobile Home Hook Ups and Undergrounds
Installation of Ground Rods
Add or Move Outlets and Switches
Wiring for Hot Tubs
Wiring for Smoke and CO2 Detectors
Wiring for Sump Pumps
Code Violation Corrections
Inspection Report Repairs
GFCI Circuits and Outlets
Door-Bell Systems
RV Plugs
Aluminum Wiring Repair
Exhaust Fans
Whole House Fans
Wiring for Central Air
Wiring for video surveillance systems, alarms and other security features.
If you don't see it on this list, call us any way. If it has to do with electric, we do it.
Get A FREE Electrical Maintenance Contract Price Quote
Whether your electrical service needs are small or large, we are honored to serve you. To get a FREE electrical service price quote in Dallas County, call us today at (972) 254-1158, in Tarrant County, call (817)-488-0126. Or, click here to submit a request through our online service request form.