Electrical Panel Replacement, Breaker Box Replacement - Dallas Fort Worth
Whether you call it an electrical panel, an electrical box or a breaker box, the electricians at Add-All Electric know exactly what you are talking about and provide quality electrical panel services including repairs, inspections, installs and upgrades in the greater Dallas/Fort Worth area.
What is an Electrical Panel?
In your home, the electrical panel is where electricity from the utility company comes into your house and then is disbursed through your home to outlets, lights and wall switches via circuits. Homes built prior to 1950 typically were built with 30-Amp Fuse Panels. Homes built between 1950 and 1965 would have been built with a 60-Amp Fuse panel. These boxes don't provide nearly enough power for all of the electrical amenities we enjoy today such as the clothes washer and dryer, dishwasher, televisions and computers just to name a few. Unlike breaker box panels of today, the panels in older homes contained fuse boxes rather than circuit breakers. The downside to fuse panels is that when a fuse blows, just like in your car today, you need to replace the fuse.
In the 1960's the circuit breaker panel made its debut and is still used to this day, however, the number of amps installed and how the panels are wired has changed over the years. For many years 100 amps of power were the norm. As newer appliances, televisions and computers came on the scene, electrical panels were increased to 150 amps and a home built today will typically have a 200-amp panel installed. Larger homes may even have a 300-amp or 400-amp electrical panel installed. The benefit of the electrical panels of today is that if a circuit trips you can just go to the circuit breaker and reset it.
Adding a Circuit to a Breaker Box
Do you need to add a circuit to a breaker box because you are remodeling or adding an addition to your home? The electricians at Add-All Electric are fully versed in National Electrical Code (NEC) as well as regional and local codes and bring years of experience to your project. Part of adding a circuit involves installing electrical boxes, cables, receptacles, switches and light fixtures. Code will dictate how many of each you are required to have. Prior to installation our electricians will help you decide where you want them placed.
Adding a New Circuit Breaker
To prevent electrical fires, it's a smart idea to upgrade or replace your breaker box fuse. Not only will it make your home safer, having a good breaker box will have your appliances working to the best of their abilitiesTo prevent electrical fires.
it's a smart idea to upgrade or replace your breaker box fuse. Not only will it make your home safer, having a good breaker box will have your appliances working to the best of their abilitiesTo prevent electrical fires, it's a smart idea to upgrade or replace your breaker box fuse. Not only will it make your home safer, having a good breaker box will have your appliances working to the best of their abilities. While adding a new circuit breaker to an electrical panel is not as complex as adding a circuit to a breaker box and you might consider doing it yourself, understand that working with electricity can be fatal if you touch the wrong thing. If you decided to replace it yourself, homeowner's insurance does not always cover damages if something were to go wrong. For your safety, a licensed electrician should replace or upgrade your electrical panel. If the wiring is not properly installed it can easily cause a devastating fire. Our electricians come with all the needed tools and know the safest, quickest way to get the job done.
Adding a sub panel to 200 amp Electrical Panel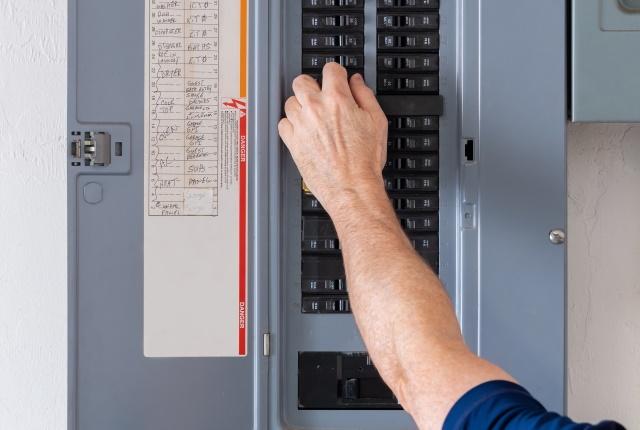 If you need a new sub panel added to your 200-amp electrical panel because you don't have any more room in the main panel for additional circuits or because you want to have a new panel closer to the room where the electric is to be used, call Add-All Electric. When you hire Add-All Electric to do the sub panel installation, we take care of calculating the wattage load for the main panel and the load requirements for the sub panel. If the main electrical panel can't handle the wattage load of the new panel, we will recommend a service upgrade to the main electrical panel. Depending upon your reason for wanting a subpanel you may only need a service upgrade. Either way, we will pull permits, install all the necessary electrical components and ensure that our work passes inspection. You never have to worry when you hire Add-All Electric because we are confident in our electrician's abilities but more importantly, we guarantee all of our work.
Is it time for an electrical panel upgrade also called an electrical service upgrade? Here are some signs that it just might just be time.
Do you have a really old home that still uses fuses?
Does your breaker box trip often?
Do your lights dim or flicker often?
Do you have to turn off one appliance to use another?
Or, are you planning on upgrading your appliances?
While some of these symptoms might not necessarily mean that you need to upgrade your breaker panel, at a minimum it needs to be evaluated. A master electrician at Add-All Electric can identify exactly what you need. If an electrical panel upgrade is indeed what you need, we will provide a quote in advance of work. We'll let you know exactly what is going to be done and coordinate when to do the work because you will be without power while the work is being done. Prior to work beginning we will pull a permit. When we are ready to start, the utility company will turn off power to the house. When the work is done, we will ensure that the electrical panel upgrade passes its' inspection by the local regulatory agency and then power will be restored.
Electrical Panel Installation
For those building a new home, or adding any type of home improvement that will need its own electrical system, Add-All Electric provides electrical panel installation services. Working with you we'll discuss installation details and can determine the exact size electrical panel you need for your new home or addition. Our licensed electricians stay up to date on the required permits and safety precautions. We always give upfront price quotes so there are no surprises. Let us provide you with the best experience while our team installs your new electrical panel. To discuss your project and learn more about our installation services, give us a call today.
Federal Pacific Breakers & Federal Pacific Panels – Are they dangerous?
Many people call us and ask if Federal Pacific panels are dangerous. Typically this call comes when a homeowner is selling their home and a home inspector has pointed out that the home has a Federal Pacific Electrical Panel and the buyer is told it needs to be replaced.
Our short answer to the question is 'Yes' your Federal Pacific Breaker Panel is not safe and needs to be replaced. Federal Pacific breakers, also called Federal Pacific Stab-Lok breakers or FPE Stab-Lok Breakers fail to trip properly more than 60% of the time when overloaded or a short circuit occurs.
According to Jesse Aronstein, an Electrical Engineer and expert on this subject matter, who presented his findings to the Consumer Product Safety Commission, "a significant portion of them jam and will not trip at all, no matter what overload current is applied." He said, that while most circuit breakers of all kinds are never overloaded to the point of tripping, the absence of them being overloaded does not mean they will be safe when they do get overloaded.
Due to his extensive testing and findings he urges the public to replace Federal Pacific breakers for your own safety. While your Federal Pacific breakers may never get overloaded or short circuit, meaning they may have been in your home for 50 years already and you think they are working fine, you don't want to find out that yours don't work should an overload or short circuit occur. If they don't work, the end result could be a fire that starts in your electrical panel and burns your home down.
Now if you know anything about electrical panels, you might be thinking that you can just change out the breakers. But that isn't the case. Jesse Aronstein, in his report, says that many of the Federal Pacific panels themselves have a design flaw that causes them to overheat which means you will need a breaker box replacement.
InspectAPedia.com, a resource for home inspectors, showcases some of the Federal Pacific Breaker fires in its documentation. Don't become a statistic. Call Add-All Electric to replace your Federal Pacific Breaker Panel today.
Zinsco or GTE-Sylvania Electrical Panels (which were designed by Zinsco prior to GTE-Sylvania purchasing the Zinsco Electric Company) were installed in homes throughout the 1960's and 1970's. The circuit breakers inside these panels would come loose from the bus bar which would cause arcing and overheating. Because of this they would melt making it impossible for the breaker to trip upon a short circuit or overload. Because of this Zinsco Electrical Panels are a fire hazard and should also be replaced.
We Inspect, Repair & Replace Electrical Panels and Breaker Boxes of All Kinds
When you need an electrician to inspect, repair a breaker box or need an electrical panel replacement, you can count on the team at Add-All Electric. Our electricians are all licensed, insured and bonded. But more importantly, we don't hire anyone that we wouldn't trust in our own home. For reliable, affordable electrical panel services, call Add-All Electric Today!
No matter what the name on your electrical panel, call Add-All Electric.
Bulldog
Challenger
Cutler Hammer
Federal Pacific
General Electric (GE)
GTE Sylvania
Menards
Midwest
Murray
Pushmatic
Schneider
SDG&E
Siemens
Square D
Stab Lok
Sylvania
Westinghouse
Zinsco

Get A FREE Electrical Service Price Quote
Whether your electrical service needs are small or large, we are honored to serve you. To get a FREE electrical service price quote in Dallas County, call us today at (972) 254-1158, in Tarrant County, call (817)-488-0126. Or, click here to submit a request through our online service request form.