Electricians in Stephenville Tx
Add-All Electric is an electrical contractor that serves in Stephenville, Bluff Dale, Morgan Mill, Dublin, and Lingleville Texas. As your local electrician we provide residential, commercial and industrial electrical services. Our electricians are all licensed, bonded and insured. And all have passed background and drug tests. Since most of our electricians have been with the company for years, we consider them like family. We are confident sending them to your home or business because we know they provide quality lighting systems and electrical work. Whether you need a new outlet installed, a chandelier hung, or your entire house re-wired, we are on call and look forward to serving your electric needs.
To get started on your electrical project, call today and speak to one of our on-call electricians for a FREE price quote and ask about our customer satisfaction guarantee. Contact us at (254) 262-3141.
Residential Electrical Contractors in Stephenville, TX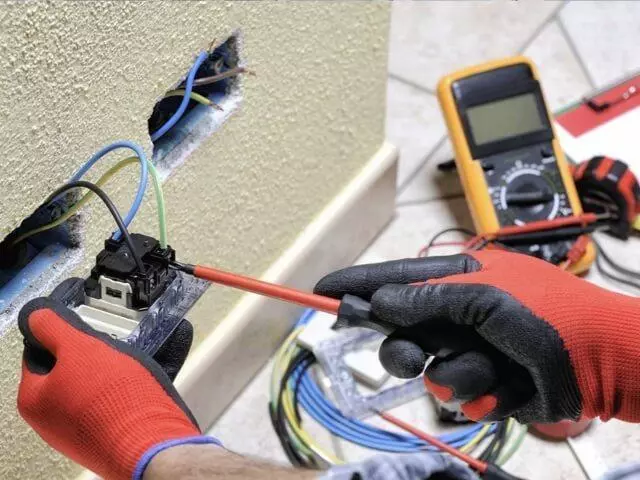 As residential electrical contractors located in Stephenville TX, we provide a variety of services for homeowners, property managers and Realtors. Our electrical services include:
Electrical Panel Installs, Repairs and Upgrades
Loss of Power Troubleshooting and Repairs
Outlet and Switch Installs
Chandelier, Ceiling Fan, other Lighting Installs
Electrical Service Upgrades for Hot Tubs & A/C
Wiring for Home Additions & Remodels
Wiring for Mobile Home Hookups & Undergrounds
Rewiring of Older Homes
And more...
We provide upfront pricing for all of our electrical services and we guarantee our work. Don't compromise the integrity of your electrical system by hiring a handyman that lacks the experience, and the proper licenses and insurance to keep you safe. When electrical work is not done properly it puts you and your family at risk. Click here to learn more about our residential electrical services. For service call us at (254) 262-3141.
Emergency Electrician On-Call in Stephenville, TX
When an electrical emergency occurs, you need an emergency electrician on-call. In Stephenville TX, Add-All Electric provides 24/7, 365 day per year emergency electrical services. We are able to handle any emergency from a downed power line that should be attached to your home or business, to a damaged transformer, popping electrical panel or electrical fire, to name a few. No matter what you're emergency, call us for immediate service.
For emergency electrical service or emergency electrical repair in Stephenville, call any time of the day or night, at (254) 262-3141.
Commercial Electrical Services in Stephenville TX
We've worked with many commercial business owners throughout Stephenville TX and the Dallas/Fort Worth Metroplex since we started business in 1970. As commercial electricians we offer an extensive list of electrical services. Our goal when working with our commercial clients is to build a long-lasting relationship so we work hard to not only earn your business but to keep your business. If you need an electrical repair or installation for your business, we would be honored if you would call us.
Click here to learn more about our commercial electrical services.
Call us at (254) 262-3141.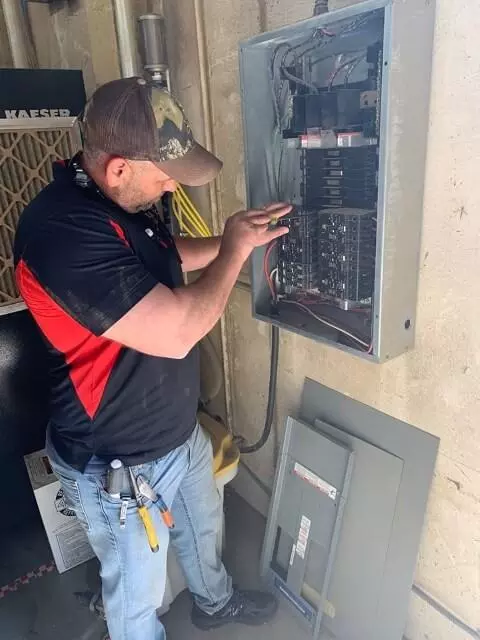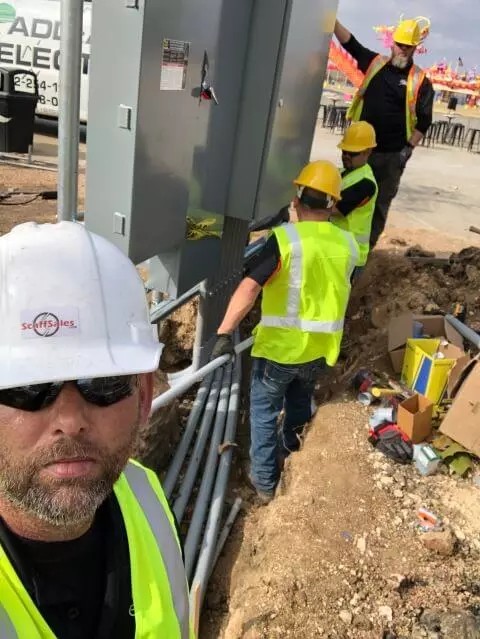 Industrial Electrical Contractor in Stephenville Tx
Working in manufacturing and production facilities and with high voltage wiring is an expertise that not all electricians have. At Add-All Electric we have a crew of industrial electrical contractors who serve Stephenville Tx companies. From copper theft restoration, installation and repair of transformers, to troubleshooting electrical issues, and installation and repair of machinery, there is little our electricians have not done. We are licensed, bonded, insured, background checked, drug tested and ready to serve you. Here is a brief list of our commercial electrical services:
Machine wiring and repairs,
Electrical testing and troubleshooting,
Generator panel service,
Lighting design retrofitting
UPS Systems
High Voltage Installs and Repairs
And more.
If you have a project or you need a company to provide ongoing maintenance and support, give us a call today at (254) 262-3141. Or, click here to submit a request through our online service request form.
LED Lighting Contractors in Stephenville TX
If you are thinking about making the switch to LED lighting, call Add-All Electric, the LED Lighting Contractors in Stephenville TX. We have been installing LED lighting for years and have extensive knowledge of what is required to replace your existing commercial light fixtures. We have done LED lighting in parking lots, football fields, warehouse and distribution facilities and more. By switching to LED lighting, not only will you be providing better, brighter light, you will be saving money in the long run.
To learn more about how we can help you with LED lighting call us today at (254) 262-3141. Or,
Why Choose Add-All Electric as your Electrician in Stephenville, TX
Add-All Electric is proud to have served the Stephenville, TX community since 1970 and we look forward to doing so for many years to come. We are committed to providing quality electrical services, at reasonable prices. We are honored to have the best customer service with years of experience and hope that you'll give us a try. We invite you to read our customer reviews and then decide.
For all your electrical service needs call the Stephenville, Tx Electricians at Add-All Electric. Contact us at (254) 262-3141. Or, click here to submit a request through our online service request form.