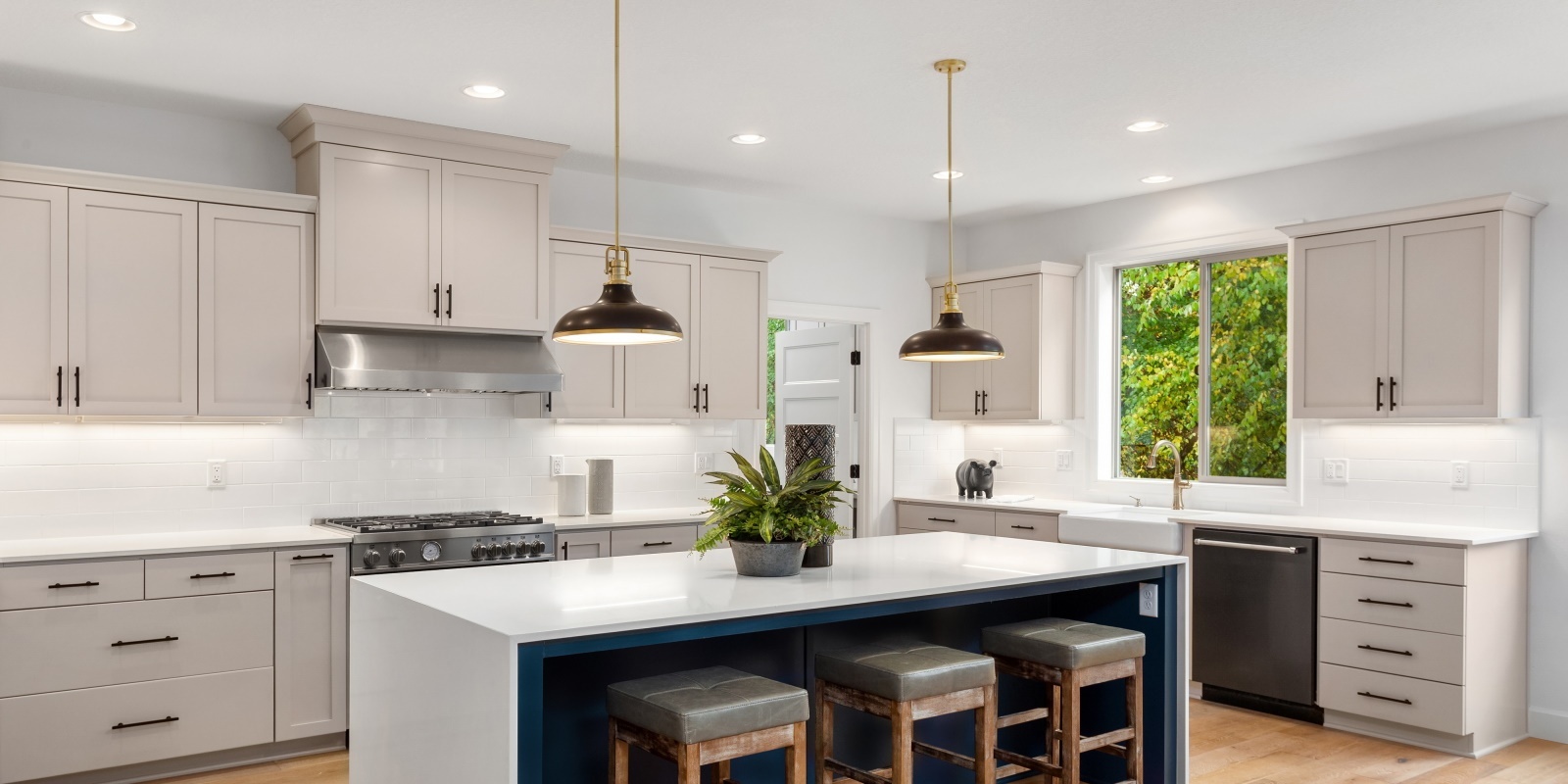 Kitchen Lighting Guide for Homeowners
Are you remodeling your kitchen? One of the most important elements of any kitchen remodel is the lighting installation. Kitchen lighting adds beauty and elegance to the space while also making it possible to cook those delicious meals that you love to make.
Whether you're remodeling your kitchen on your own or working with a team of qualified contractors, hire a qualified electrician to install your kitchen lighting. The professionals at Add-All Electric have decades of experience installing kitchen lighting. Here's what you need to know about choosing the right types of light fixtures for your kitchen.
Light in Layers: What You Need to Know
Have you ever heard the term "lighting in layers"? This concept is important in kitchen spaces. Layered lighting makes it easier to see what you're doing when cooking, cutting and scrubbing dirty countertops.
What Does Lighting in Layers Mean?
Layered lighting is lighting from multiple fixtures that overlaps in a single space. Usually, layered lighting is installed with different types of light fixtures for different effects. Light from recessed fixtures, pendant lighting and task lighting all overlap to prevent shadows from being cast by multiple people working in the kitchen together at once.
Why Is It Important to Light in Layers in the Kitchen?
Simply put, layered lighting helps prevent kitchen accidents. The kitchen is a space where cabinets, plumbing fixtures, appliances and people all come together in one room for risky tasks like cooking, slicing and dicing. In a room with too few layers of lighting, shadows can lead to accidents.
Categories of Lighting
Generally speaking, kitchen lighting falls into three different categories.
Ambient Lighting
Ambient lighting is the main source of lighting in the kitchen. This light is non-directional and fills the general space of the room. You can create ambient lighting with a combination of recessed lighting, flush mounts and natural lighting.
Task Lighting
Task lighting illuminates areas where people focus their attention while performing kitchen tasks. Task lighting is usually positioned under cabinets. Strip lights and puck lights are common types of task lighting.
Accent Lighting
Accent lighting makes the kitchen a beautiful space, but may not serve a functional purpose. Cabinet lights are an example of accent lighting - these lights are often placed inside cabinets with glass doors.
Types of Light Fixtures
When you're shopping for light fixtures, you'll see the different types of light fixtures mentioned in online articles and in catalogs. Below are some of the most common types of light fixtures found in the kitchen.
Strip lights. These lights are placed under cabinets to illuminate countertops. Strip lights create an attractive stripe of lighting that helps you see what you're doing when preparing food, writing "to do" lists and so on.
Puck lights. A puck light is a round, oval light that creates a pool of light. These lights are often installed under cabinets for task lighting.
Flush mount. This lighting is used for ambient lighting in smaller kitchens. Flush mount lighting comes in many styles - some have glass shades, others have exposed bulbs.
Recessed lighting. Recessed lighting is installed in the ceiling and can be directional or non-directional, depending on the type of fixture.
Pendants. Pendant lighting is a type of highly decorative lighting that also comes in many styles. Pendant lighting is typically installed over kitchen islands and seating areas. Pendant lighting is both beautiful and also functional.
Where Lighting Matters Most
Your entire kitchen should be well-lit, but some parts of the kitchen tend to fall in darkness more easily than others. If you're updating your kitchen lighting, here's where we recommend that you focus your attention.
Under-Cabinet Lighting
Have you noticed that your cabinets are often shrouded in darkness when you're trying to ge work done? Under-cabinet lighting can solve this problem.
Under-cabinet lighting can be hard-wired into your home, plugged in to a nearby outlet, or battery operated. While hard-wiring requires the most up-front investment, it's the best option for homeowners seeking a permanent and convenient solution for their lighting problem. If hardwiring is your choice, work with an experienced electrician to install task lighting under your cabinets.
Over the Island
The kitchen island is an area of the kitchen where the majority of the work is done. Light your kitchen island based on the type of work that you'll be performing there, using directional lighting from pendant fixtures, or ambient lighting from recessed fixtures.
If your kitchen island is designed to provide counter space for eating and entertaining, use pendant fixtures to create an ambiance. Don't hang the pendant fixtures too low, or your lighting could become a nuisance. Place your pendant lighting at least 30 to 36 inches above the countertop.
Save Money with LED Lighting
According to energy.gov, the average household saves around $225 annually with LED lighting. LED lighting comes in the form of bulbs and in the form of fixtures with integrated lighting (no bulbs to be replaced). LED light fixtures offer convenience and savings, but if you're attached to using standard light fixtures that require bulb replacements, you won't need a special fixture for using LED light bulbs.
If you're planning to use LED bulbs, remember that LED and incandescent bulbs shouldn't be used in the same fixture. Incandescent bulbs create too much heat and will damage your LED bulbs over time.
Kitchen Lighting FAQ
How many light fixtures should I plan to install in my kitchen?
There's no right answer to this question. As a rule of thumb, it's a good idea to install one four-inch recessed light every four feet, if recessed fixtures are your source for ambient light. If you're going to use one or two large overhead light fixtures, plan to combine them with smaller task lights and other sources of directional lighting.
What light bulb colors are right for a kitchen?
You can use different colors of light bulbs in different parts of the house. If you're buying energy efficient LED bulbs, pay attention to the K-value. Warm light bulbs have lower K-values, while cooler bulbs have higher K-values. Plan to use bright whites over counters for best visibility, and warmer lights around your breakfast nook or kitchen table for more ambiance.
Is it safe to install kitchen lighting on my own? Should I hire an electrician?
Unless you're an electrician, it's best to hire a professional to install kitchen lighting for you. Poorly installed lighting can be unreliable at best, and a fire hazard at worst. Working with a professional electrician, you'll have the peace of mind that comes from knowing the lighting was installed correctly the first time.
This is especially true if you're planning to install lights where currently no lights exist. While replacing a fixture can be a fairly straightforward process, installing a new light fixture requires wires to be run. Your electrician will determine which circuits in the electrical panel should be used to light your kitchen. If you're making additional changes to your kitchen's electrical system, work with an electrician that can ensure that your home's breaker box is up to the task.
How can I tell if my kitchen lighting isn't enough?
Have you had any accidents in the kitchen recently? Do you struggle to see what you're doing when you're cutting vegetables? Do you often finish cleaning the kitchen at night, only to realize in the daylight that you missed lots of crumbs on the counters or floors? These are all signs that you need more kitchen lighting.
Installing New Kitchen Lighting? Contact Add-All Electric
Installing new lighting in your kitchen can make your kitchen space more functional and attractive. At Add-All Electric, we install replacement light fixtures, new light fixtures, install new electrical panels and more. Contact us today to get started with your home upgrade.